2005.06.29: Voice
"Another
Whispering Corridors
movie?" I've been hearing people say. It seems like the series has been going on forever, particularly in that we had
Bunshinsaba
last year which, though not officially a part of the series, was set in a girls' high school and may as well have been. This latest installment is called
Voice
and, according to tradition, it features a debut director and a young cast of debut actresses. Before watching it, I was wondering if this would be the one that would finally finish off the series... a film so bad that nobody would want to make another. But after walking out of the theater, the thought running through my head is "Keep them coming!" If they're all as good as this one, I'll gladly watch one per summer for the rest of my life.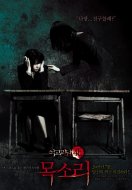 They're calling it Whispering Corridors 4, but Memento Mori 2 might be a better indication of what to expect. I say that with some trepidation -- at least among a certain group of people (myself included), Memento Mori has acquired legendary status with the passage of time. Voice doesn't reach the same heights and is not going to be remembered as well, but much of it recalls the previous film in mood, while moving in different (but not dissimilar) directions in terms of plot and theme. (Gosh... I hope I haven't just killed the movie by making this comparison)
Voice does not start off well. The opening scene feels a bit flat, and the gruesome death that follows is more silly than gruesome. Yet after a funky opening credits sequence (director Choi Ik-hwan has experience in experimental short films, and it shows) the film sets off slowly but surely in creating a real, breathing cast of characters. The film's central axis is the close friendship between two students Young-eon and Seon-min who suddenly find themselves... er... separated, but still able to communicate. Yet as time goes on, this foundation on which the plot rests starts to become a bit less stable.
The film's strongest sequences are in the middle. Look at any given scene, and the direction feels competent but not exceptional. However the accumulated effect is strong. As the film progresses it also gradually gets more complicated and hard to follow... not quite on the level of A Tale of Two Sisters, but a challenge nonetheless. Like Two Sisters, it loses some steam when it tries to explain everything at the end, but the ending's not bad, all things considered.
This summer's crop of horror films may prove to be a bit of a redemption after last year's disaster. I haven't seen The Red Shoes yet, but based on an early edit The Wig seems extremely well made (I'll comment later after watching the finished version). Don't really know anything about Cello, but even if we only end up with two successes this summer, that will be a respectable record.

UPDATE: New reviews: Kyu Hyun Kim's take on horror film Bunshinsaba (2004), and Adam Hartzell's review of Kim Ji-hyun's low-budget independent film Popee (2002).

2005.06.28: Dueling festivals Korea's festival scene is scheduled for a bit of the bizarre in mid-July when the new people in charge of the Puchon International Fantastic Film Festival (PiFan) face off against the former organizers of PiFan, who have launched a rival event in Seoul called the Real Fantastic Film Festival. The latter has about one-tenth the budget of the former, but nonetheless they will both run from July 14-23, competing for the same viewers. Kim Hong-joon, the head of RealFanta, says that they scheduled their festival for the exact same time slot in order to draw attention to the structural and political problems over at the Puchon festival. This is not quite the same thing as Slamdance doing its thing in the shadow of Sundance each year -- in this case, there are hurt and angry feelings on both sides, and each festival is out to make the other obsolete. Most of the local film industry, meanwhile (including, most prominently, Park Chan-wook) have announced they will boycott PiFan. For more information about the background to the whole clash, check out some of the earlier entries in this blog.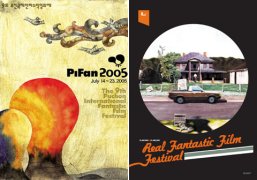 Before going any further, I'd like to propose we clear away some lexical confusion related to the two events. The problem is, most people strongly associate the word "PiFan" with Kim Hong-joon and the other staff members who have made the festival famous over the past few years. Thus when referring to the event that will take place in Puchon this summer, people invariably add a prefix or suffix to distinguish it from the PiFan of old, for example: "New PiFan" or "PiFan Two". But terms like "New PiFan" are rather slippery: does it mean the old festival staged by the new people in charge, or the new festival staged by the old people who used to be in charge? Therefore I'd like to propose that we call the two events "GoodFanta" and "BadFanta", which is quite clear and easy to keep straight. In saying "BadFanta" I don't intend any hard feelings towards the organizers of the event in Puchon, except perhaps for the mayor of Puchon who genuinely seems to be a bad man. In fact, the word "BadFanta" is perhaps a bit overgenerous, containing as it does a whiff of anti-establishment cool that the festival probably doesn't deserve.
Attending a festival and watching movies is usually a fairly straightforward affair, but this year an entire moral dimension has been added to the proceedings. Am I the equivalent of a strike breaker if I go watch films at BadFanta? Looking over their program, there are quite a few movies that I'd really like to see, including the two opening films Night Watch from Russia and Battle in Heaven from Mexico (which both screen at the same time?!), and retrospectives devoted to Ko Young-nam and Park Chul-soo (which will probably have no subtitles). Though admittedly, attending BadFanta's press conference was not something to inspire confidence. With the main programmer/festival director wondering aloud if films would be canceled last minute and admitting that the event might not even be around next year, it felt a little like watching a plane go down in flames.
There is also the added complication that GoodFanta won't be reserving tickets in advance for the press. That means we'll be competing directly with ordinary Korean film fans for tickets. That's quite a frightening proposition -- this is, after all, the country where 5,000 seats to the PIFF opening night screening are sold out in less than three minutes. GoodFanta's screening rooms at the Art-house Formerly Known as Hollywood Theater seat less than 300 people apiece. Therefore I'm trying to be realistic about my chances of getting into some of those sci-fi films from the Soviet Union and the former communist counties of Eastern Europe, which forms the centerpiece of their program.
Being a journalist, I suppose I can sidestep the moral dilemma of whether or not to attend BadFanta, as I'll be required to write about both events for my job. I'll try to be open-minded, but admittedly my heart lies with GoodFanta. This whole situation makes me think back to high school, when a motivated and inspiring English teacher (a rarity at my school) was dismissed after he started becoming too critical of the school's administration. I was never able to do anything about it back then, and no matter how much I rant and rave on this site now, the old PiFan is not coming back. Still, the actions of the mayor have done a great deal of damage to Korea's cultural/festival scene, and one would like to hope that the old, original PiFan will be mourned properly.

UPDATE: Darcy has written a review of Lee Jeong-cheol's melodrama A Family (2004).
UPDATE: Tom Giammarco has written a review of the early-1990s children's film Hyeong-Rae and the Hulk, while Adam Hartzell has contributed his take on Byun Young-joo's Ardor (2002).
UPDATE: Darcy has written a review of Kim Ki-duk's 12th film The Bow.

2005.06.10: This and That... Gang Hye-jung and Park Hae-il's Rules of Dating opens today, and based on advance ticket sales it looks like it's going to be a big hit. I haven't seen it yet (these days I've lost my info source regarding the schedule for press screenings), but it seems to have captured people's attention mostly for its creative casting. Park Hae-il is usually slotted into nice guy roles (see Scent of Love, My Mother the Mermaid), but his most interesting work has been as characters with a significant dark side (Jealousy is My Middle Name, Memories of Murder). In this latest film he seems to have gone all out as a sleazy English instructor looking for sex.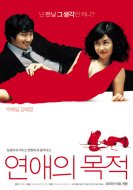 Gang Hye-jung, meanwhile, is solidifying her status as one of Korea's coolest actresses. Unlike, say, Bae Doona (who seems really popular among non-Koreans, but is generally overlooked at home), Gang's fan base seems to expand more and more by the day. With an image that's harder to pin down than the usual pretty-face actresses that dominate popular films, she functions as an appropriate symbol of something about young, modern Korean women. But what that is, exactly, is hard to say. (Her current popularity is also boosted by the fact that she's dating Cho Seung-woo (Marathon), making them the most hip offscreen couple since Bae Doona/Shin Ha-kyun and Ryoo Seung-beom/Gong Hyo-jin went their separate ways)
It will be interesting to see the fan reaction to Rules of Dating. It's portrayed in its promotional materials as a slightly off-color romantic comedy, but I'm told that the actual film is exactly the opposite: dark, unsettling, realistic. All of which has me intrigued. Other recent news:
* Korea's ratings board has just undergone its latest three-year makeover. Under Korean law, the members of the ratings board are chosen by the the Ministry of Culture and Tourism for three-year terms. The new chair will be Lee Gyeong-soon, the former vice chair who took over for Kim Soo-yong when he resigned in January. However there have been some industry grumblings about the rest of the 15-person board, since it includes some former members of the Performance Ethics Board which oversaw governmental censorship through the mid 1990s. Maybe they've been reformed in the interim.
At any rate, Ms. Lee says that she sees sexual content as causing less potential harm to teenagers than film violence (which I'd tend to agree with). Recently there's been a bit of a quiet revolution in film censorship, with films like Fat Girl and The Dreamers being released in Korea completely uncut (i.e. with big closeups of "problematic" male and female anatomy). The old prohibition on showing genital parts on the big screen seems to be breaking down. Nonetheless, the board still makes it clear that they operate on a subjective basis. Tokyo Decadence was recently rejected again, despite having 6 minutes of footage cut, making one wonder if it will ever be released.
* Korea's DVD companies have come up with a new trick. In contrast to other countries, DVD has been pretty much a bust in Korea up until now, with even the most successful titles only selling 50,000 - 100,000 copies. DVD rentals have become rather popular, however. To encourage people to buy rather than rent, a few DVD companies are purposely downgrading the image quality on rental DVDs, roughly to the level of an ordinary video. Japanese feature Blood and Bones is one example, as well as Ryoo Seung-wan's upcoming Crying Fist. The image quality of the DVD that you can buy in stores, however, will be top-notch. It seems a rather extreme step to take, but the weakness of DVD is probably the single greatest problem facing the film industry in Korea right now.
* Finally, the Pusan International Film Festival recently held an early press conference to unveil the plans of their 10th anniversary edition, to be held from October 6-14. The city of Pusan and the government have chipped in an extra million dollars, on top of the festival's usual $4 million budget, to ensure that #10 is something special. The program is expected to swell to 300 films, and to cope with the expected rush of film fans, the number of screens will be doubled from 16 to 33. With luck, that should put an end to perennial complaints about how hard it is for guests to secure tickets.
Several special sections are being lined up for the main program. One is a collection of new films from Asian directors who have won PIFF's New Currents competition section in the past. Tentatively scheduled are Zhang Ming (Pregnancy), Jia Zhangke (an early version of Still Life), Okuhara Hiroshi (A Blue Automobile), K.N.T. Sastry (My Daughter), Lee Kang-sheng (Help Me), and Alireza Amini (The Riverside). PIFF will also launch a new annual section titled "Remapping of Asian Auteur Cinema", which focuses on Asian auteurs from the past that you or I are unlikely to have ever heard of. This year's three directors are Sohrab Shadid Saless from Iran (1970s), Ratana Pestonji from Thailand (1950s-60s), and Teguh Karya from Indonesia (1970s-80s).
Another big one-time event will be the Asian Pantheon section, which brings together 30 better- and lesser-known masterpieces from the history of Asian cinema. I don't have room to list all 30 here, but here are some samples: The Big Parade (Chen Kaige, China, 1985), The Horse Thief (Zhuangzhuang Tian, China, 1986), Dragon Inn (King Hu, Hong Kong, 1967), The Big City (Satyajit Ray, India, 1955), A River Named Titash (Ritwik Ghatak, India, 1973), The Cow (Dariush Mehrjui, Iran, 1964), Close up (Abbas Kiarostami, Iran, 1990), Late Spring (Yasujiro Ozu, Japan, 1949), Deep Desire of Gods (Shohei Imamura, Japan, 1968), Floating Clouds (Mikio Naruse, Japan, 1955), Tsogt Taij (M. Luvsanjamts, Mongolia, 1931), Manila: In the Claws of Light (Lino Brocka, Philippines, 1975), The Leopard (Nabil El-Maleh, Syria, 1972), The Terroriser (Edward Yang, Taiwan, 1986), Dust in the Wind (Hou Hsiao-hsien, Taiwan, 1986), Dark Heaven (Ratana Pestonji, Thailand, 1958), Tahir and Zuhre (Nabi Ganiyer, Uzbekistan, 1952). You get the idea... This particular program will also screen at the Busan Cinematheque for two weeks after the festival ends.
The 10th PIFF will also be hosting a special Asian Film Academy for film students from Asia, and will hold seven academic seminars on Korean and Asian cinema. This in addition to the planned retrospective on one of my favorite Korean directors, Lee Man-hee. It's either going to be heaven or hell on earth, I'm not sure which one... Heaven because there's so much to choose from, hell because even with no sleep, you can only choose a tiny portion of what's available.

UPDATE: Paolo Bertolin conducted an interview with Im Sang-soo, director of The President's Last Bang, at the recent Cannes Film Festival. Also, Adam Hartzell has submitted a review of Kim So-young's Women's History Trilogy, which came out on DVD this spring.
UPDATE: Darcy has written a review of Park Chul-soo's Green Chair, which gets its local release on June 10 after screening at various overseas festivals. The Korean Actors and Actresses page has also been given a long-planned facelift and (almost complete) update. New entries were also added for Ha Ji-won and Kwon Sang-woo. Finally, the Bibliography page features new listings on articles by Edward Douglas, George Fasel, Erika Franklin (2), Kim Tae-jong, Jonathan Marlow, Kathleen McHugh and Nancy Abelmann, Sun-young Moon, Nick North (2), Michael Shapiro, Chuck Stephens, and Alison Veneto (2).
UPDATE: Tom Giammarco has contributed a report from the 2005 Jeonju International Film Festival, including an interview with one of Korea's famous festival volunteers.


2005.06.03: Year of the Melodrama? This year appears to be shaping up as a particularly good year for romantic melodramas. In fact, some of the most interesting experimentation in genre this year is likely to come from films billed as "traditional" melodramas. So far we've already had Git ("Feathers in the Wind"), which may have been roundly ignored both in Korea and among major festivals, but which nonetheless ranks as one of the best Korean melodramas of recent years. Park Chul-soo's Green Chair might be considered a melodrama as well, though that's perhaps stretching the definition a bit. Much more is on the way, however.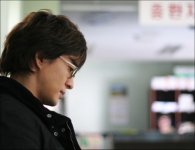 Much has been written about the casting of star Bae Yong-joon in April Snow (pictured), but somewhat lost amidst all the hype surrounding the actor and the so-called "Korean Wave" is the fact that we're getting another film from Hur Jin-ho, who most recognize as Korea's leading director of melodrama. Hur's debut Christmas in August (1998) ranks as one of the timeless classics of the past ten years, while One Fine Spring Day (2001) represents a further step towards presenting melodrama in a down-to-earth, non-melodramatic fashion. The stars will likely continue to outshine the film itself when it is released across Asia in September, but I for one am quite excited to see what Hur gives us next.
I'm also beside myself with anticipation for You're My Sunshine, the second feature-length work from Park Jin-pyo (Too Young To Die). Starring the inimitable Jeon Do-yeon together with Hwang Jeong-min (A Good Lawyer's Wife), the film depicts a love story between a sex worker who contracts AIDS and the rural laborer who falls in love with her. Park himself is referring to the film as a traditional melodrama, but he says that in order to distinguish it from regular melodramas he hopes to present it "in as honest a way as possible." From another director, I'd consider that a throwaway comment, but I'm sure that Park is preparing something special for us.
Next we have news that Moon Seung-wook, the director of the low-budget science fiction film Nabi (2001), will soon open shooting on a film called Romance. His main actors will be Jo Je-hyun, the title character from Kim Ki-duk's Bad Guy; and Kim Ji-woo, who won much praise for her acting debut in This Charming Girl. I haven't been able to find many details about the plot, but I'm told that this too is a somewhat traditionally-shaped melodrama. Nonetheless, the cast and director alone are cause enough to hope for a high quality film.
Anther interesting title in the works is Sarangni from Jung Ji-woo, the director of Happy End (1999). Being a big fan of the latter film, I was highly looking forward to this new effort, though I've been told to expect something much more commercial than Happy End. Kim Jung-eun, who starred most recently in How To Keep My Love, stars as a woman in her thirties who falls in love with a teenage student. Meanwhile Min Kyu-dong, the co-director of Memento Mori (which was released two weeks after Happy End) is also returning with his second feature. This film, which translates as "The Most Beautiful Week of My Life", focuses on a range of couples of various ages, similar to Love, Actually (though the filmic style is supposed to be different). Eom Jung-hwa, Hwang Jeong-min, Im Chang-jung, and Kim Soo-ro are among the cast. Also adopting a similar structure is Sad Movie, produced by one of Korea's leading talent agencies, and starring pretty much their entire lineup: Jung Woo-sung, Im Soo-jung, Cha Tae-hyun, Yeom Jung-ah, and Shin Min-ah.
Love Talk meanwhile will be the second film by Lee Yoon-ki of This Charming Girl fame. The film is set, and will be shot in, the Korean-American community of Los Angeles. Finally, there's My Wedding Campaign, set in Uzbekistan and featuring actress Soo Ae from A Family and Jung Jae-young from Someone Special. The plot supposedly revolves around those schemes that match foreign brides with desperate Korean husbands. I'm a little nervous about this one, but we'll see how it turns out...

UPDATE: Adam conducted interviews with both Park Chul-soo and Byun Young-joo at the recent Far East Film Festival in Udine, Italy.

2005.05.23: Hong Sang-soo's Conte de Cinema Hong Sang-soo's sixth work has wrapped up its screenings at Cannes, and Hong returns to Korea without any awards (with many local news outlets branding him a two-time failure). Whereas his previous film, Woman is the Future of Man provoked outright hostility from mainstream film critics at Cannes the previous year, Conte de Cinema seems to have been more or less ignored by the English speaking press. Partly this may have been because it screened so close to the end of the festival (when everyone was exhausted), and partly it may have been that nobody knew what to say about the film. Although slightly more structured and serious-themed than Woman, it's still an unusual style of filmmaking that hides its creativity beneath layers of self-centered dialogue and passionless sex.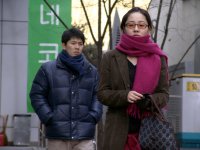 Conte de Cinema (Hong says "there is no English title," so we'll use the French title, which means "Tale of the Cinema") is structured in two parts. As you might expect, each part reflects upon and echoes the other in interesting ways. Actually, the relationship between the two parts is somewhat creative and unexpected, but you can expect that almost all reviews of this film will give it away in the plot summary. I'll avoid mentioning it here, but if you want to watch the film cold, I'd recommend holding off on reading other reviews until after you watch it.
I liked this movie quite a bit. Local critics seem pretty enthused as well: Nam Dong-cheol, the editor of weekly film magazine Cine21, calls it his favorite Hong work to date, and last week's issue has a 13-page spread devoted to the film. Most critics are giving it four stars.
Longtime fans will immediately notice something different about the first story, about a boy who runs into a girl he used to like. (They were unable to start a relationship in the past, we're told, but now they happily hook up for the night) Yes, there is the zoom lens that Hong is using for the first time, which he discussed in interviews while the film was still in production. But even more disconcerting than the zooming in and out is the voiceover narration. At first, it felt hugely out of place, and had me wondering, "What was Hong thinking?" But later on, everything clicks into place.
The humor, of course, is still there, though apparently it failed to register with much of the Cannes crowd. (Local critic Shim Young-seop, in contast, titled her review of the film "A comedy that makes you laugh so hard, tears come out") Yet it also veers unexpectedly into serious themes, i.e. death. The tension between the biting humor and the sobering reminder of one's mortality seems like a new development for Hong.
Last year when I interviewed Hong at Cannes, he said "I'm still negating, I haven't got to the point where I'm over this negation, where I've found these small beliefs that are absolutely affirmative -- something I really believe in and am ready to talk about." The fact that he has called this film his 'second debut' makes me suspect that he has found something positive to work around in this film. Yet in typical Hong fashion, Conte de Cinema doesn't broadcast any clear messages or morals for the viewer to take home. Only after carefully sifting through this work are viewers likely to find the tiny points of affirmation that Hong may -- or may not -- have included. (p.s. newcomers to this director's work are recommended to visit the Hong Sang-soo page.)

UPDATE: Adam has written a review of Kang Je-gyu's debut feature The Gingko Bed, from 1996.

2005.05.11: The Bow's unusual release strategy Tomorrow, Kim Ki-duk's 12th film The Bow screens as the opening film of the Un Certain Regard sidebar section at Cannes. On the same day, however, it will also be released in Korea, and in rather idiosyncratic fashion.
Since Kim easily raised all the money he needed to shoot his $1.2m film from foreign sources, he was able to retain the local distribution rights as well as the copyright for himself. This has a lot of advantages. For example, the production company that made Kim's first film Crocodile has since gone out of business, making it rather difficult to arrange for a DVD release, screenings on cable or pay TV, etc. Kim will never have that problem with The Bow for as long as he is alive.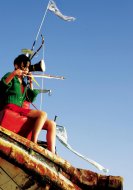 It also means that Kim has complete control over how his film is marketed and released in Korea. And he's chosen a rather unusual method. With the exception of Bad Guy or possibly The Coast Guard, none of Kim's films have ever done particularly well in Korea. So this time he will open The Bow on only one screen in Seoul and one screen in Busan. (Regional areas will follow later, one screen per city.) He hopes the release to last a long time, though -- he's quoted as saying that if people keep coming, he'd love to have it keep screening until the end of the year. (Perhaps an unlikely scenario)
If he can make this work, it will be a really smart move from an economic perspective. Opening a film on many screens at the same time is quite expensive, since you have to make a new print for each screen. And this is, after all, Kim's own money, so it's in his best interest to make sure that release expenses are kept as low as possible. Being only one screen, it's likely to draw a lot of viewers per show, so the theater owner should be more willing to keep it playing for a long time. Even if Kim doesn't sell as many tickets as he would with a wide release, his profits will be higher.
In my personal opinion, a lot of art films in Korea are released on too many screens, so theater owners replace them with more commercial titles after only a week or two. It would be better to choose a smaller number of screens, in the hopes that they could then play longer. This is especially true for directors like Kim who are famous, and have their own (small) devoted fan base. Even on one screen, even if you don't spend much money on advertising, you're guaranteed a minimum number of viewers. Incidentally, the distributor of Hong Sang-soo's A Tale of the Cinema will also be adopting a similar strategy, offering the film to a small number of theaters in return for a commitment to screen it for a longer time.
The other aspect of Kim's release strategy that is drawing notice is his decision to not hold any advance screenings for the press. Kim is quoted as saying (paraphrased), "I think it's proper for journalists to buy a ticket like anyone else and watch it with regular viewers." Kim is famous for his antagonistic relationship with local critics, but it sounds like he's skipping the press screenings not because he's scared of bad reviews, but because he wants to sell a few extra tickets. In some ways this is Kim's ultimate revenge... Even if they trash his latest film, he'll still be pulling in $7 for each critic who sees it.

UPDATE: Darcy has reviewed Kim Dae-seung's Blood Rain, which opened at the top of the box office this weekend.

2005.05.07: Innocent Steps Despite the steady growth of Korea's star system, it seems that very few actors or actresses can be guaranteed to pull viewers into the theater. Jeon Ji-hyun's follow-up to My Sassy Girl -- horror film The Uninvited -- tanked at the box office, and Jang Dong-gun's fanbase showed little interest in watching him in Kim Ki-duk's The Coast Guard. Korean audiences seem to pay more attention to what a film is about, rather than just who is in it.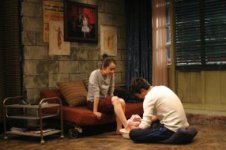 One wonders about Moon Geun-young, though. It seems like these days, she could turn a film about stamp collecting into a blockbuster hit. This is unlikely to last forever -- her cute routine is already getting pretty over-exposed in advertisements, and Innocent Steps might be the last time that her charm alone can turn a lame pony into a racehorse -- but this latest film marks another box office success to go along with My Little Bride (2004) and A Tale of Two Sisters (2003). I read some online comments by viewers that said if you take Moon Geun-young out of this latest film, you end up with a heap of garbage, and that pretty much sums it up.
In Innocent Steps she plays an ethnic Korean woman from China who comes to Seoul to participate in a "dance sport" competition (in Korea, the words "ballroom dancing" conjure up a rather negative image, and so people don't use that term). Soon we learn, however, that there's been a bit of trickery going on, and she actually doesn't know a thing about dancing. That leaves us the last 90 minutes of the film to watch her transform into an amazing dancer, fall in love with her dance partner, and lose her Chinese accent. (Actually the film deviates a little from the standard generic plotline, but the result is more annoyance than anything else)
To be honest, this movie suffers greatly from the fact that it keeps reminding you of Failan (2001)... for much of the running time I was feeling nostalgic for that much better film. Although Moon Geun-young has obviously put a lot of work into this role, and her dancing was rather good, the unbearably stupid sideplots involving other characters keep stealing screen time from her. We never even really get to see the knock-em-dead dance sequence that you'd expect at the end, unless you count the footage screened over the ending credits. All in all, I felt pretty cheated out of my 8000 won. And finally, this is yet ANOTHER Korean film that makes use of those awful CGI-generated fireflies. Please, make it stop!

UPDATE: Adam has contributed a review of Yang Yoon-ho's martial-arts biopic Fighter in the Wind (2004).
UPDATE: Darcy has added a review of Kim Jee-woon's Cannes-bound A Bittersweet Life (2005).

2005.05.04: Hong Sang-soo's Conte de Cinema added to Cannes competition The sixth film by Korean director Hong Sang-soo has been named as a late addition to the competition section at Cannes. This is the second year in a row that Hong will compete at Cannes, following the less-than-enthusiastic reception of his fifth film, Woman is the Future of Man. Conte de Cinema is structured in two parts, reflecting its Korean title which can mean either "a story about the (movie) theater" or "in front of the theater". I believe the official English title of this film is A Tale of the Cinema, a direct translation of the French title, but at this point Hong's production company is using the transliteration Keuk Jang Jeon as the title (according to the official transliteration system it would be "Geuk-jang-jeon").
Hong is reportedly calling this his "second debut", and for the first time he makes extensive and obvious use of a zoom lens. The film stars Kim Sang-gyeong (Turning Gate), Eom Ji-won (The Scarlet Letter), and Lee Ki-woo (The Classic).

UPDATE: Kyu Hyun's choice for worst Korean movie of 2004 is the Japanese-financed DMZ by Lee Kyu-hyung.
UPDATE: Kyu Hyun has written a review of the horror-comedy To Catch a Virgin Ghost (2004), and in addition a new page has been launched for films made between 1945 and 1959, with reviews of Hometown of the Heart (1949) by Adam and Money (1958) by Darcy.

2005.04.28: Korean films at Cannes It's that time of year again. Cannes has announced the selections for its latest edition, and in contrast to last year, no Korean films have been selected for the prestigious competition section. However, a total of five feature films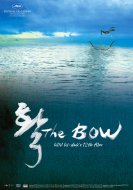 and one short film will screen in other sections of the festival. Two of the films in particular should draw a fair amount of attention: Kim Ki-duk's 12th film, The Bow, was selected as the opening film of the Un Certain Regard sidebar section, and Kim Jee-woon's action-noir film A Bittersweet Life will receive an out of competition screening in the Official Selection. As an Official Selection film, Kim Jee-woon and his star Lee Byung-heon will be able to walk the red carpet at the festival's main theater.
Meanwhile, the Critics Week section will feature the oddly titled Chinese-Korean co-production Grain In Ear by Zhang Lu. The film tells the story of a Korean-Chinese woman living in rural China who sells kimchi for a living. I've seen this film, and it's really quite impressive... Slowly-paced for much of its running time, it packs a strong punch at the end.
Two more films screen in the Directors' Fortnight section: Im Sang-soo's controversial The President's Last Bang, and Ryoo Seung-wan's Crying Fist. Finally, the Cinefondation section for film students will screen Shim Min-young's 15-minute film Walk On a Little More.
All of these directors will be attending Cannes for the very first time, so with luck this will give their films some publicity and help them to disseminate along the festival circuit. (I won't be going to Cannes this year, so there won't be any festival reports, at least from me...)